Fixed lecture table and chair – space optimization solution
Minh Duc Co., Ltd. introduces the Fixed lecture table and chair for schools and university SDA-700-79M. This is a product manufactured by Kotobuki Sea Co., Ltd., belonging to Kotobuki Seating Corporation of Japan.
SDA-700-79M is made according to the high-quality standards of Japan, suitable for lecture halls, training rooms, and conference rooms. The product's features are safety, ease of use, and optimizing the number of seats
Origin: Produced at Kotobuki Sea Co., Ltd., Vietnam.
Features: High-end product with feet fixed to the ground, creating stability, orderliness, and certainty. In addition, the legs of the chair can be folded when needed, creating comfortable walking space for people behind.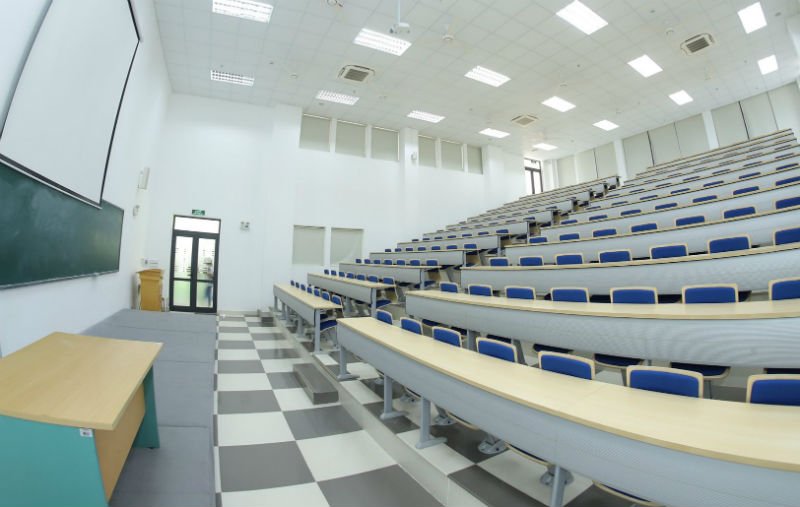 Specifications of SDA-700-79M table and chair set
Dimensions: Table 720mm high, Seat 420mm
Tabletop: t20mm particle board, laminate finish (PVC edge).
Front fender: Die-cast aluminum alloy
Desk drawer: Round steel bar, cast steel plate with powder-coated silver finish
Hanger: Round steel bar with powder-coated silver finish
Table legs: Steel tube is powder coated with silver finish
Table and chair legs: Fixed to the ground with anchor bolts (expansion screws)
Note about order time
This product is manufactured and constructed according to the specific space of each order. Images are for illustration and reference purposes only. The finished product is equivalent to the descriptive drawing or to the approved 3D design. Product construction materials depend on the customer's choice.
Order lead time with this product is usually 30-60 days (excluding design approval and color selection time). Some complex designs will require a longer order time. Please contact Minh Duc directly for the most accurate advice.
Other products you may be interested in