Japanese modern conference chair without writing tablet
Japanese modern conference chair is designed to be fixed to the floor. The seat cushion and back of the chair are upholstered in fabric, and the frame and legs are made of steel. This is a different type of hall chair with four single legs, removable and sometimes with a classic design such as carvings, decorative patterns…
This type of chair does not have a writing tablet. The material of the chair is from high-frequency molded wood with a veneer-covered surface. This type of chair has a very high uniformity in aesthetics and has a durability of about 25-30 years, suitable for the harsh climatic conditions of Vietnam.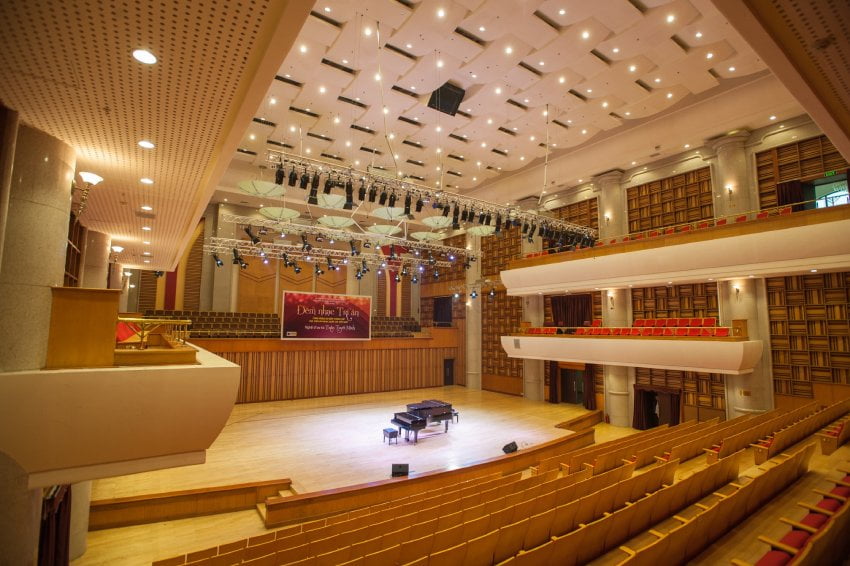 Features and specifications of modern hall chairs
This is a chair without a wooden seat bottom, so it has high sound absorption, suitable for use in concert halls and cinema rooms.
Chair without writing desk arm for simple use
Dimensions: Back height 950mm x Seat height 430mm, width 500mm to 550mm.
Upholstery is made of breathable 3D Air mesh fabric. Base colors select from palettes KSF, KQ, F338.
Upholstery can be made according to fire retardant standards
The mattress is molded with polyurethane combined with serpentine springs to prevent deformation of the seat surface during long use.
Seat frame made of steel with anti-shock swivel mechanism.
The back panel and side panels are made of 18 layers of plywood with PU coating.
The handrail is natural solid wood with a PU finish.
Steel legs fixed to the floor, made from powder-coated steel plate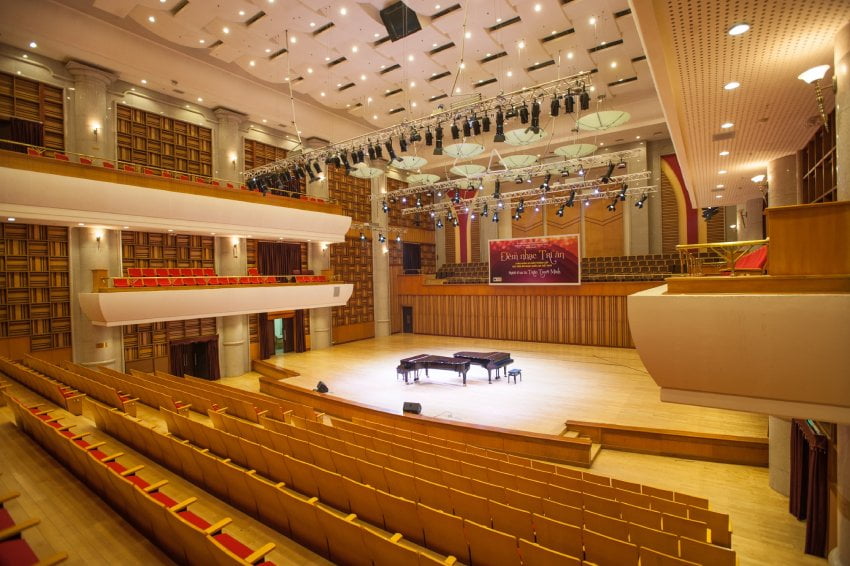 Another view of the hall chairs at the national concert hall 87 Hao Nam, Hanoi
Note about order time
This product is manufactured and constructed according to the specific space of each order. Images are for illustration and reference purposes only. The finished product is equivalent to the descriptive drawing or to the approved 3D design. Product construction materials depending on the customer's choice.
Order lead time with this product is usually 30-60 days (excluding design approval and color selection time). Some complex designs will require a longer order time. Please contact Minh Duc directly for the most accurate advice.
Other products you may be interested in