Fixed Classroom Table and Chair SDA-79-38 made by blow-molded plastic
Fixed Classroom Table and Chair SDA-79-38 from Kotobuki Sea Co., Ltd. is made based on Japanese technology with modern design. Chairs and tables are fixed to the floor. The seat has the ability to retract forward when not in use. The seat of the chair is made of double-layer blow-molded plastic. This is an outstanding solution for classrooms, offices, and halls.
Minh Duc is currently the main distribution agent for Kotobuki Sea Co., Ltd in the North of Vietnam.
Origin: Produced at Kotobuki Sea Co., Ltd., Vietnam.
Features: The product has enough stability and firmness so that students can sit comfortably without any difficulty. The tabletop is covered with an anti-scratch layer and surrounded by PVC edges to reduce damage during use. The seat is made from high-quality synthetic resin with blow molding technology. The footrest also has the function of automatically returning to its original position when not in use, saving time and space for each row of seats.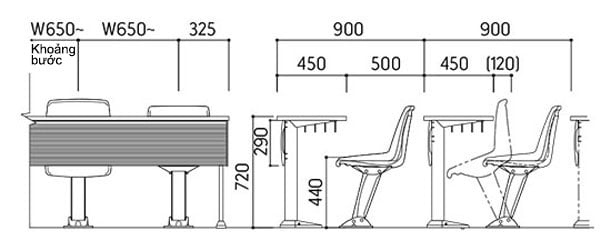 Specifications Fixed Classroom Tables and Chairs
Dimensions: Table 720mm high, Seat 420mm
Tabletop: t20mm particle board, laminate finish (PVC edge).
Front fender: Die-cast aluminum alloy
Desk drawer: Round steel bar, cast steel plate with powder-coated silver finish
Hanger: Round steel bar with powder coated silver finish
Seat surface: Double-layer blow-molded plastic
Table legs: Round steel pipe with powder-coated silver finish
Rear legs: Adjustable molded plastic
Table and chair legs: Fixed to the ground with anchor bolts (expansion screws)
Note about order time
This product is manufactured and constructed according to the specific space of each order. Images are for illustration and reference purposes only. The finished product is equivalent to the descriptive drawing or to the approved 3D design. Product construction materials depending on the customer's choice.
Order lead time with this product is usually 30-60 days (excluding design approval and color selection time). Some complex designs will require a longer order time. Please contact Minh Duc directly for the most accurate advice.
Other products you may be interested in