Minh Duc's strategic partners
Currently, Minh Duc Furniture has strategic partners who are famous furniture manufacturers and suppliers inside and outside Vietnam such as Kotobuki and Shaw Contract. Specifically, the service areas and suppliers respectively are as follows:
Kotobuki Sea Company Limited belongs to Kotobuki Seating Group.
Kotobuki Sea Company is a subsidiary of Japan's Kotobuki Seating Group with a history of more than 100 years. This is an enterprise with 100% Japanese investment capital, established in 2002. The company's address is at Lot 104/6, Amata street 24/2/4, Amata Industrial Park, Long Binh, Bien Hoa, Dong Nai.
Kotobuki Sea's products include Tables and chairs for halls, theaters, stadiums, airports, and train stations. Retractable seating system for gymnasium. Tables and chairs for schools and universities.
Minh Duc's main task for Kotobuki is to develop the market, support and work with contractors and agents in distributing and installing Kotobuki's products in the Vietnamese market, especially in the Vietnam northern area.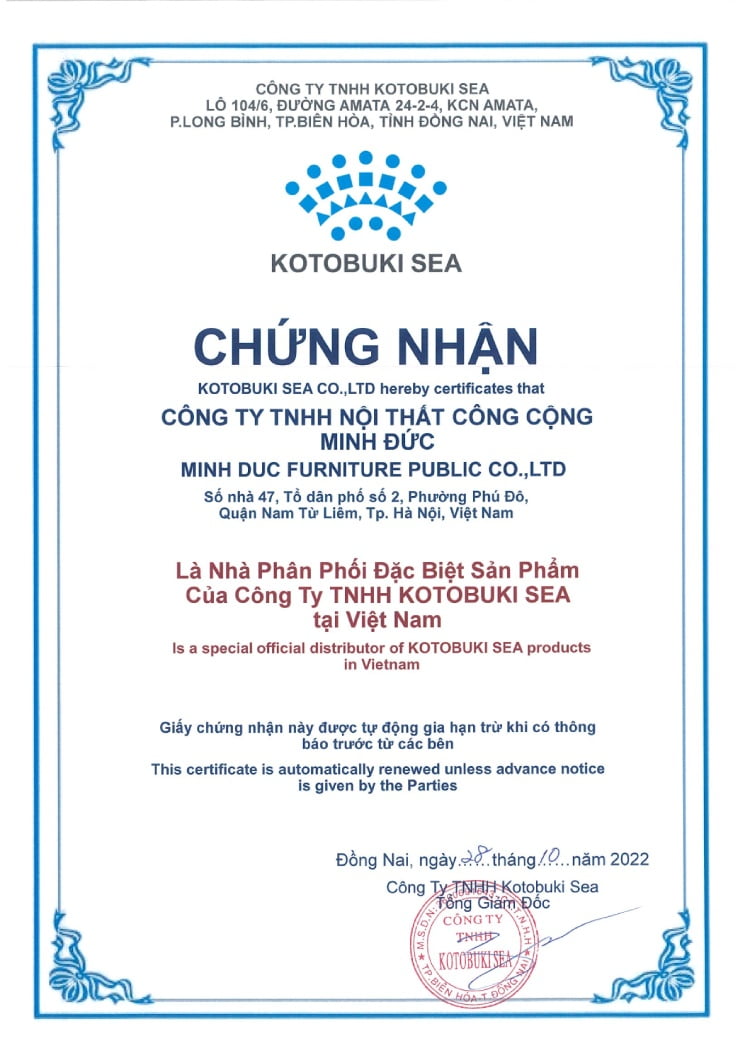 Shaw Contract company of Shaw Industries Group, Inc.
Shaw Contract is a subsidiary of Shaw Industries Group. It is one of the largest carpet manufacturers in the world with over $6 billion in annual sales and approximately 22,000 employees globally. It is headquartered in Dalton, Georgia, and is a subsidiary of Berkshire Hathaway, which is owned by billionaire Warren Buffett.
Shaw Contract products include carpets and vinyl flooring for commercial and residential projects. There are two product lines available in bulk, fast-production carpets, and fast-delivery carpets
Minh Duc is the exclusive agent, responsible for finding customers, selling, installing the Vinyl and Carpets product of Shaw Contract for interior contractors, and direct customers in the Vietnam northern region.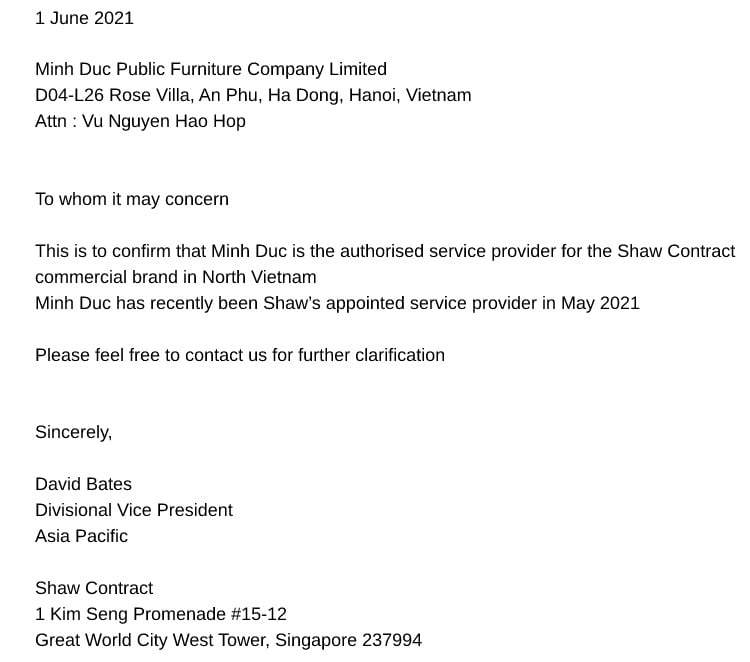 Other relevant information
Above are the current suppliers for Minh Duc. We have carefully selected and worked with these partners. Therefore, we are completely confident to provide you with the best products, services, and prices.
If you need further advice on our products and services, please contact us. Minh Duc Furniture is very pleased to serve you. Sincerely thank you!
Minh Duc Public Furniture Co., Ltd
Address: 47/2 Phu Do, Nam Tu Liem, Hanoi
Office: D04 -L26, An Phu, Duong Noi, Ha Dong, Hanoi
Hotline / Zalo: 0908314939 or 0983986161
※Minh Duc Furniture – official and special partner of Kotobuki and Shaw Contract in northern Vietnam.
RELATED PRODUCTS