John's high-end sofa, an outstanding highlight for a large space
John's high-end sofa – Dynamic is one of the furniture products of the B+ Furniture brand. This product is in the line of high-class furniture distributed by Minh Duc. It is a perfect combination of natural wood materials, metal, premium fabric, and polyurethane mattresses. Along with a very special and luxurious design.
Like other sofas, the product includes a leg frame, back, and seat. The backrest and seat are made of 100% natural wood, which is durable, resistant to warping and termites. Use a soft polyurethane mattress and striking orange upholstery. The vertical ridges on the seat help create accents and comfort for the occupants. The legs of the chair are made of black powder-coated steel, which is sturdy and has good bearing capacity. The product also designed a small table that is very cute and convenient. There are legs connected from the chair legs and a round wooden tabletop. The most special and unique highlight of the product is that all parts are covered by a tall wooden frame, mattress, and fabric upholstery of the same color.
The overall design brings a sense of privacy and courtesy. Suitable for placing in spaces such as showrooms, cafes, hotel lobby… If you own spaces with an ideal area, this will be a perfect product that you should not ignore.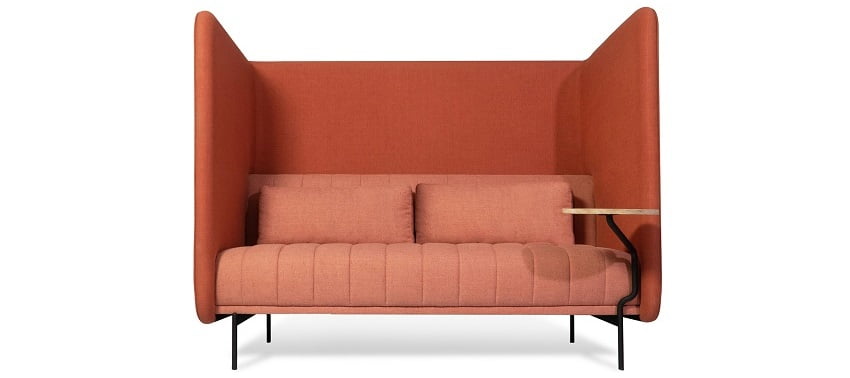 Product information and specifications
Overall dimensions: 1320 mm high x 870 mm deep x 1625 mm
Seat height: 400 mm
Color: Orange
Frame material: natural wood, powder-coated steel frame
Mattress material: Polyurethane mattress
Upholstery Material: Fabric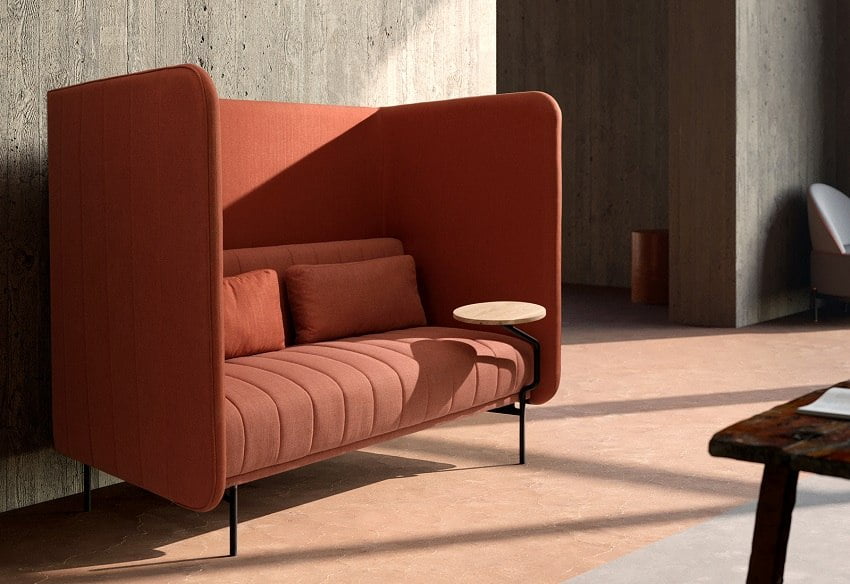 Note about order time
When products are out of stock, or customers request to make products according to their own design. The lead time for production orders is usually 5-10 days. Some premium products will require a longer order time. Please contact Minh Duc directly for advice and the most accurate information.
Related products you may be interested in